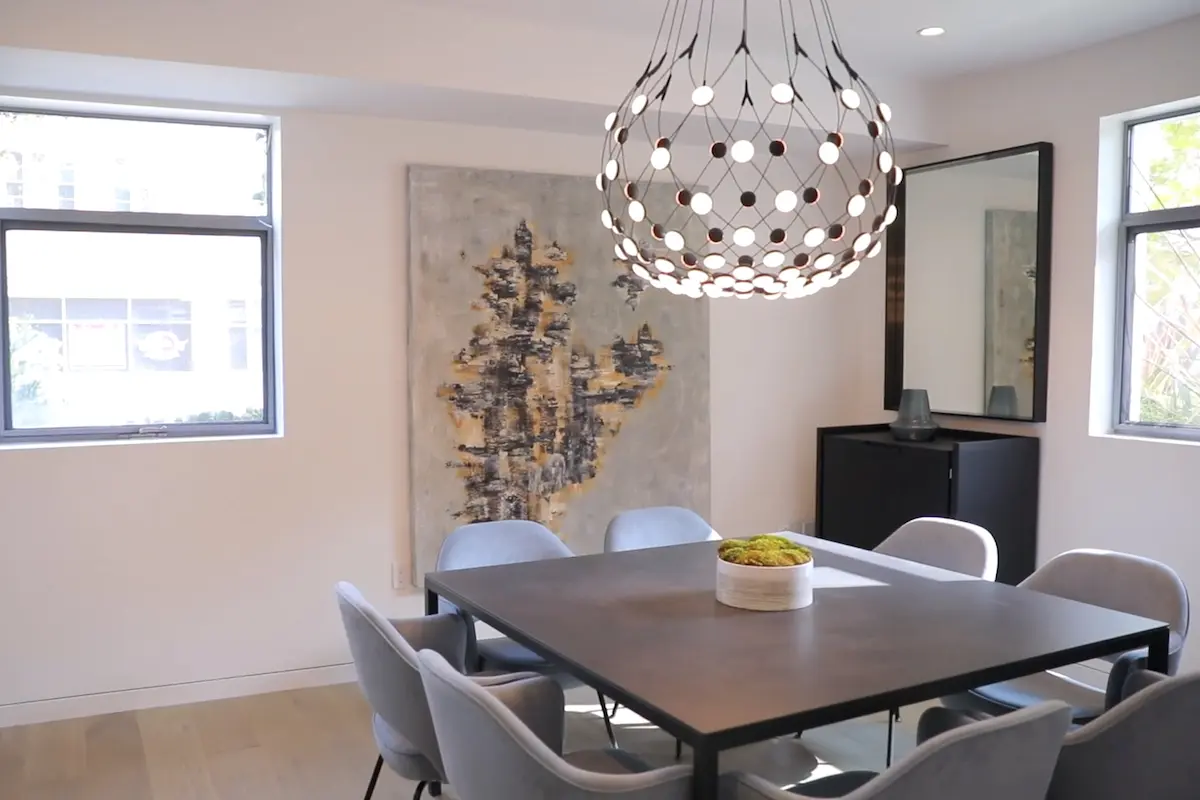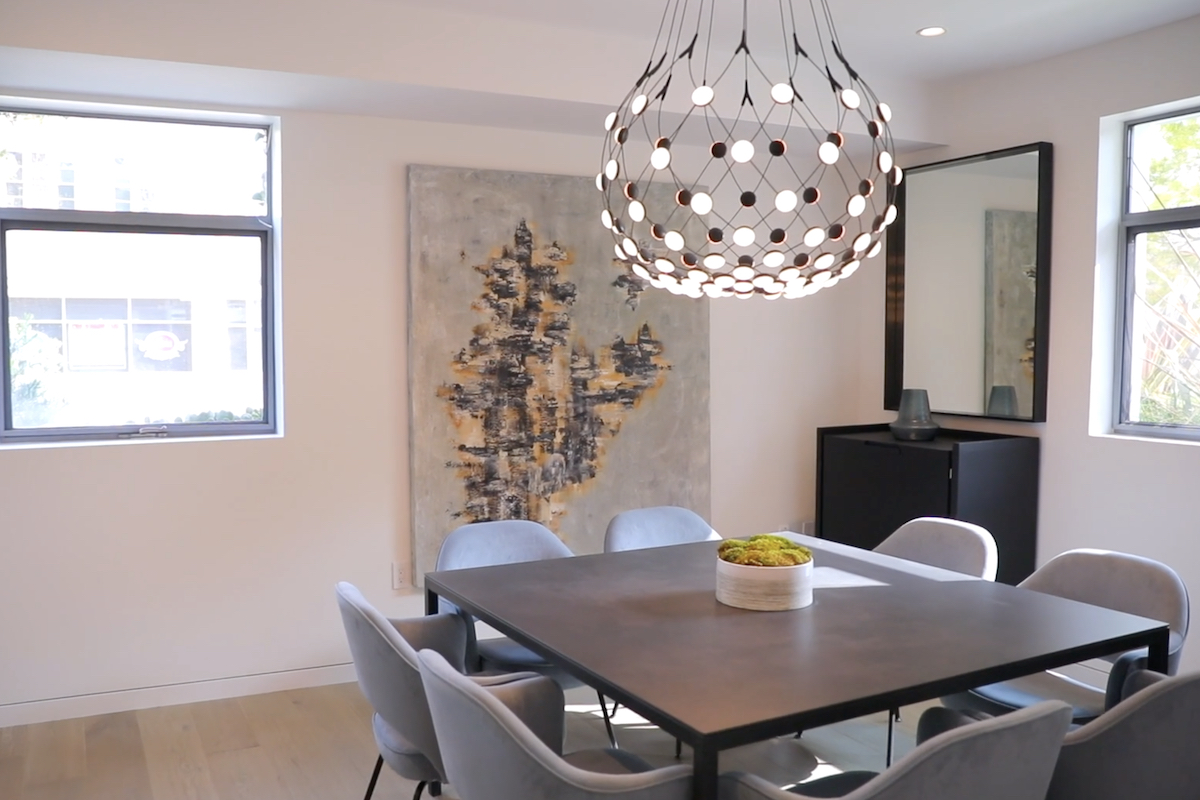 In a special Q&A and video walkthrough, L.A.-based art advisor and curator Tyler Lemkin shares how he chose the art shown in Row House 1, his advice for selecting trend-proof pieces and more.
Bright, gallery-like residences call for top tier works of art. That's why Gardenhouse enlisted the expertise of Tyler Lemkin, L.A.-based private art collection curator and founder of Tyler Lemkin Contemporary Art, to help choose distinctive pieces for the bright, gallery-like interiors of Row House 1. In this special Q&A and accompanying video walkthrough, Tyler gives insight into his background, what elements make Row House 1 stand out, his tips for selecting great art, favorite artists of the moment and much more.
Tell us about your background. How did you come to curate your own gallery? Growing up my mother was an amateur painter and she used to take my brothers and sister and I to gallery and museum shows all over town. I remember seeing some really important art shows at a very young age. I ended up studying art history in college and then a friend of mine got me a job at a gallery in Santa Monica. I was hired to help change the light bulbs and paint the walls. One day I was in the gallery alone, and somebody walked in and I sold them a painting. And I was on my way. After being a sales director for about eight years I decided to leave the gallery and work on my own as an art advisor and private dealer.
What kind of art do you typically choose for your gallery? How do you choose pieces? What I really enjoy about being an advisor is that I can cherry pick from galleries all over the world, as opposed to being limited to the handful of artists a gallery can represent. So I have great flexibility to pick out the perfect pieces for my clients. I spend a lot of time visiting galleries and art fairs, looking at magazines, social media and visiting websites looking for works, so I am constantly up to date on new young artists as well as the major artists working today. Everly couple of months I will update my website with around 30 or so paintings that I like across a variety of styles and price points, so people can check in on what I am interested in lately.
What tips would you give someone who is trying to select artwork for their home? And what tips might you give someone living at Gardenhouse? I would say get some advice and make sure you have variety. I've walked into people's homes and thought "They must be related to this artist, because they have four of their paintings!" Most of all I would say be open-minded. Sometimes the most interesting artwork is by the artist nobody's heard of. I think Gardenhouse is so unique on its own that the artwork really has to complement the architecture and not overpower it. I would also focus on contemporary art and not bring in anything too dated.
What is a common mistake you see your clients make when they are choosing art for their homes? Oftentimes, people buy the cool new thing and don't really consider if it speaks to them or has any longevity. Art is like fashion in that it is constantly evolving and there is always something new coming out. I think it's important to find things that are a little bit outside the trend, and have a timeless quality. Most importantly, you have to really know and like the work. Find out what it means, why the artist made it, and does it connect to anything outside the canvas.
How would you describe the style and atmosphere of Row House 1? Row House 1 is such a unique property that it was a bit of a challenge to come up with a collection that could complement the architecture and location. The building has a strong organic element to it while also being hard edge in its architecture, so there is a great push and pull to the property that I really like. I wanted to have some works that were very solemn and beautiful in their precision, and some works that were looser and more abstract. There is an overall feeling of modern elegance to the residence, so I really made sure the artworks aligned with that aesthetic.
What design elements in Row House 1 help make it a great space for displaying artwork? The architecture created so many great spaces that lend themselves to a variety of artwork. Oftentimes you have to find a painting that goes with another painting, but the way Row House 1 is designed, each piece can have a place of its own. I also like the way the natural light comes into the residence, it makes the artwork look its best.
Are any pieces displayed in Row House 1 by up-and-coming artists? There are a few up-and-coming artists displayed in Row House 1. An artist that was new to me before starting on the project was Alexandra Chiou. She makes these beautiful, intricate works on paper that have a three-dimensional quality. They are painting, collage and sculpture all in one piece. In a way they remind me of Gardenhouse itself, because of their organic quality and precision.
Any favorite pieces from Row House 1? It's tough to pick just one! I really love the big Jennifer Wolf painting in the media room. She makes all her own paints from scratch— so think of her going out to find a blue rock in nature and then grinding that down to get the blue powder to mix with the acrylic medium to make the paint. It's super labor intensive and there is a great connection to the natural world in those paintings that I really enjoy. Also, the painting titled "Rincon," which is one of my favorite winter surf spots in California. When I look at that painting I think of walking along the rocks on that beach at low tide in February, which is a beautiful time and place.