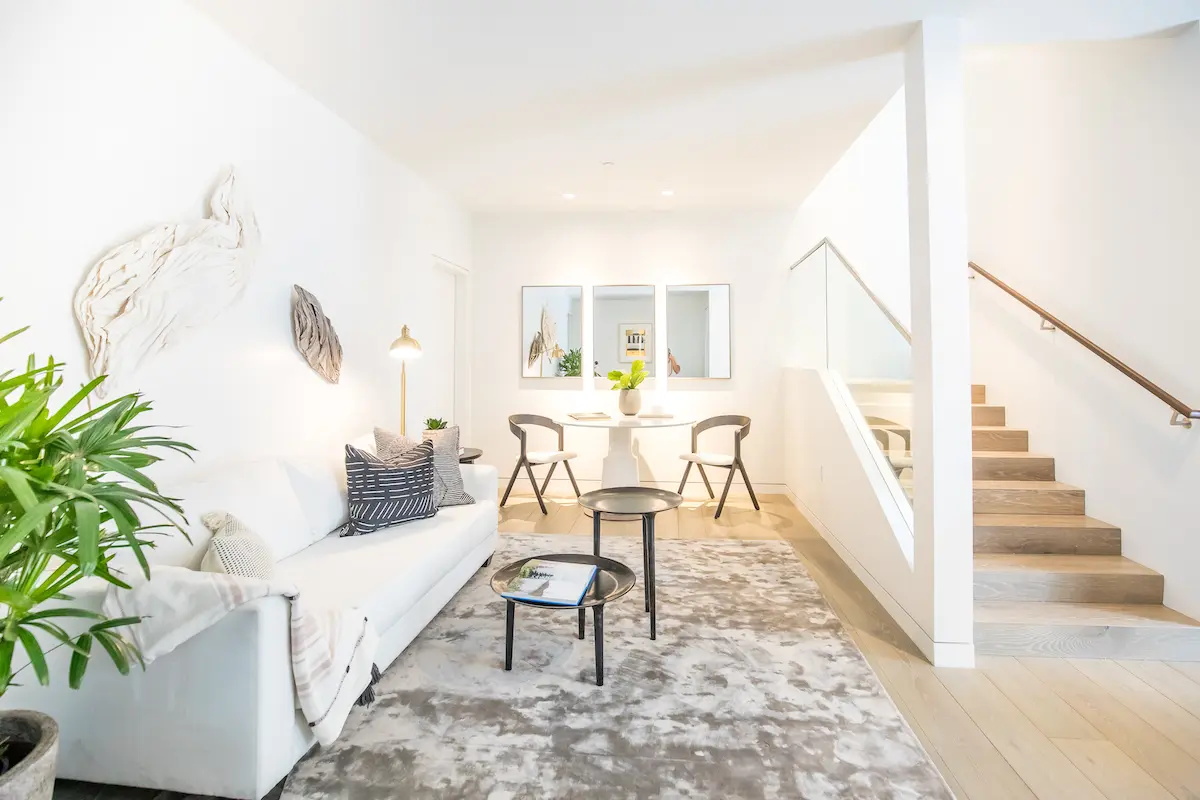 Flow He, manager and curator of Kylin Gallery in Beverly Hills, selected distinctive, modern pieces for the Sky Villas as well as Row House 3. Through this special Q&A and accompanying video walkthrough, Flow highlights his favorite works of art, discusses Gardenhouse's most compelling design elements, tips for selecting (and displaying) art and more.
Join Flow for a walkthrough featuring Row House 3's art pieces
Tell us about your background. How did you come to be gallery manager at Kylin Gallery? I received my four-year undergraduate degree from Miami University in Ohio. Then I came to UC Irvine for my master's degree in their Public Policy Program. I started my job at Kylin Gallery when it was founded in 2016. As gallery manager I curate exhibitions and help educate and guide new clients through all kinds of artwork for their homes and collections.
What kind of art are you personally drawn to? I like Western and Asian contemporary art, especially minimalism and ink art.
Can you describe your creative process when you are selecting art for a space? And how did you apply that process to the Row Houses and Sky Villas? I was very impressed by Gardenhouse's exterior and interior design—especially the outside green wall and the design of the residence's inside stairs. After I learned more about the concept behind the designs, I had even more respect for the building and MAD Architects. When I selected the artwork for Gardenhouse, I felt the pieces had to fit the building's environment, which is natural, elegant and modern. I selected two Japanese ink paintings for the Sky Villas—and the keyword to describe those two paintings is "elegance." Each was by Japanese artist Yoshio Ikezaki, who was renowned for his ink painting and handmade paper sculpture. Yoshio had a show in LACMA in 2017. Both of the pieces I chose were framed with hand-polished walnut and with museum level non-reflection glass to maximize the viewing experience. The paintings themselves are very calm and peaceful—which is why I recommended hanging them at the main entrance. I want these Japanese ink paintings to bring calm and peace to the people who have just arrived home. I selected 2 paintings by artist Stephen R. Johns for the Sky Villa master bedroom, these two iconic California geometric style paintings perfectly fit the bedroom's unique design, especially the vaulted ceilings.
What tips would you give someone who is trying to choose artwork for their home? And what tips might you give someone living at Gardenhouse? People must really like what they have bought. All artwork deserves people's appreciation, but when you choose artwork for your home, make sure to choose the correct size—that is often more important than the artwork itself. My tips for someone living at Gardenhouse are simple: Enjoy the fresh air, the design of your home and the art you choose.
What is a common mistake you see people make when they are choosing or displaying art in their homes? Size and color are the most common mistakes I see when people are choosing art for their homes. For the art's display, light and color can change the feeling of the artwork. 2700K light is more suited to masterpiece style—like an old-fashioned oil on canvas. For contemporary art, I highly recommend light at 3000K or more. Art installation is important—call on a professional art hanger, because they know how to secure your art safely on the wall and how to determine the best height for hanging.
How would you describe the style and atmosphere of Row House 3 at Gardenhouse? And as an artist, what was your first impression of the space? Row House 3 is one of my favorite units in Gardenhouse. The ground-floor entrance faces a very walkable street. Each level has abundant natural light and beautiful greenery around the first floor bedrooms.
The artwork in Row House 3 ranges from paintings to fiber sculptures. Was there a common theme or feeling that you wanted to express in your selection? In Row House 3, I selected ink on paper, mixed media on handmade paper and handmade paper sculpture. The artworks in Row House 3 have different mediums, but they have one theme, which is also the keyword for these artworks—natural. Even the ink on paper was made by the artist using a traditional formula created from linseed and boiled fish bones.
Can you name a favorite piece in each of the residences you chose art for? In the Sky Villas, my favorite is Timeless Wind 12 by Yoshio Ikezaki. In Row House 3, my favorites are Untitled 2019 by Yoshio Ikezaki and Pine of Hope by Yoshio Ikezaki.